10 Stores To Buy An Authentic Sukajan Japanese Bomber Jacket From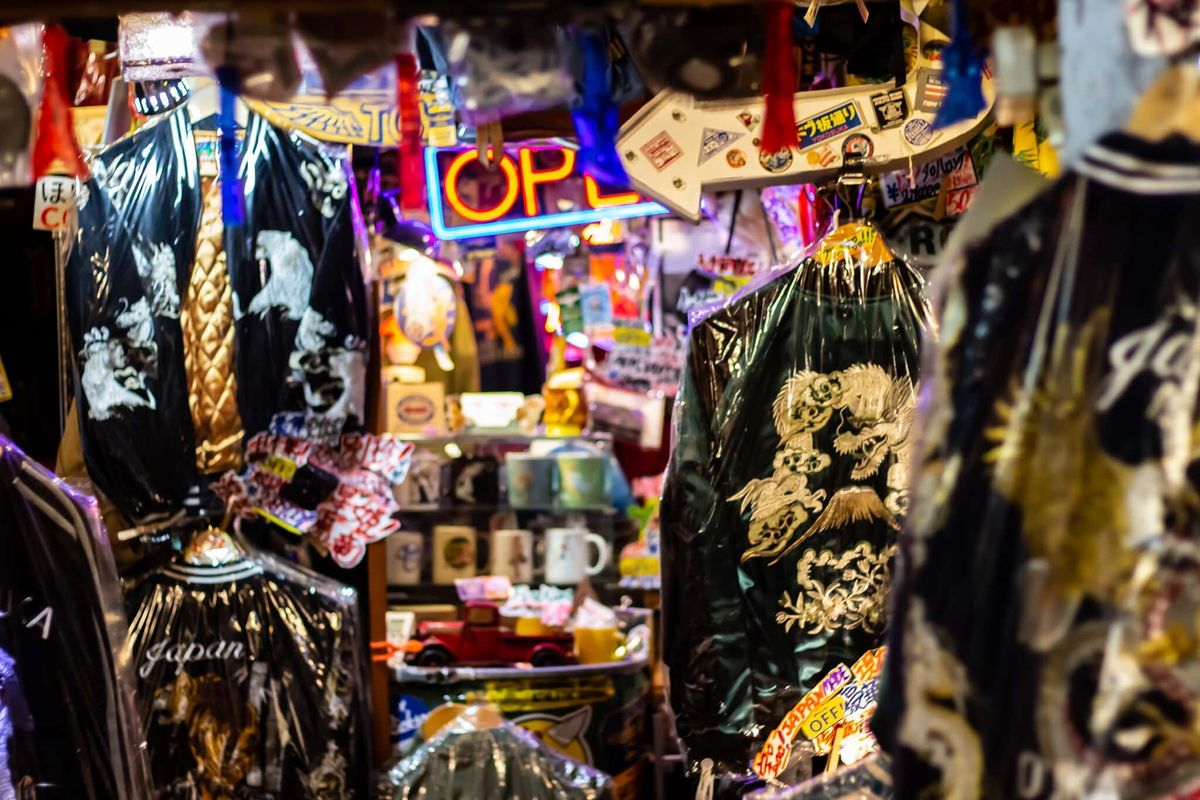 While it's been called various names, the Japanese bomber jacket is more famously known as the sukajan. What is it? How did it come about? How do I get one? All the information you need is here — read on to find out!
Canadian singer, The Weeknd, once said, "For my generation, the bomber jacket is like a replacement for the suit jacket. It's a piece that men wear every day, and it's something I would wear for any occasion."
True enough, this style of outerwear has been blowing up the streets and Instagram feeds. And when fashion enthusiasts (and even those who are not) find themselves in Japan, snagging a Japanese bomber jacket is basically senseless — it's the perfect fashion souvenir.
Sukajan, The Fashion Souvenir
If you've never heard of the term "sukajan", maybe you know it by its alternative names — does "souvenir jacket" or "rebel jacket" ring a bell?
The Japanese bomber jacket is basically a type of outerwear, usually made of silk, that combines a typical varsity jacket style with dramatic embroidery of Japanese motifs including tigers, eagles, and of course, cherry blossoms. Silhouette-wise, they're based on the classic American baseball jackets popularized by 1930svarsity teams. And Japan is quite obsessed with baseball, so it's no surprise that this style of clothing caught on.
You probably would've seen the sukajan if you've watched the 2011 film, Drive, with Ryan Gosling donning a similar one — a white silk quilted bomber jacket with an embroidered golden scorpion on the back.
This puffy and loose, ribbed-collared and cuffed-sleeved, cropped and embroidered jacket is a fashion piece that's both a staple and a trend, casual and dressy — and is more than just a bold fashion statement; it's a piece that retells your Japan experience. At least, that was how it began — and also how a lot of sukajan wearers are using it for.
Origins of Sukajan
Like most popular fashion designs, sukajan has a long, rich, cultural origin. In fact, just the name itself will give you a brief insight into where it came from. The term is believed to be a portmanteau — it combines the end half of the name of the naval base city, Yokosuka, with the first half of the Japanese katakana translation for "jumper" which is just "jan". Put it all together and you get "suka-jan".
Let's travel back in time to the era of World War II — Yokosuga in Kanagawa Prefecture of Japan was the first few naval bases in Japan. American GIs are basically the original creators of this distinctive embroidered style. In fact, there was one specific American serviceman who started it all.
When American occupation drew to a close, he had the brilliant idea of taking his normal bomber jacket to the local tailor to have it embroidered, converting something that was regarded as a symbol of war into a priceless souvenir. His fellow servicemen followed suit as soon as they laid their eyes on this creative beauty.
The original sukajan combined the two countries' symbols like cherry blossoms, dragons, geishas, and eagles. These motifs remain to this day as common designs on sukajan. What's not as common nowadays is to see maps as motifs — but back in the day, some American soldiers did request to have them embroidered to commemorate their time there. As each soldier has their own experiences infused in their bomber jacket design, authentic and hand-sewn sukajan never had two of the same styles.
More and more American soldiers wanted to bring back this one-of-a-kind souvenir to the United States as gifts, or even to sell. The demand for these unique Japanese bomber jackets boomed, and the Japanese tailors had to be crafty — piecing together leftover parachute silk with other fabrics to feed these demands.
As the sukajan was getting more popular in America, Japan was adopting the American prep style during the 1950s to 1970s. This whole fascination with American clothing and pop culture is known as the "ametora" effect. Publications like Popeye magazine influenced the local trends and those who were looking to "westernize" their fashion style. 'Bad boy' icons like James Dean and Marlon Brando were all the rage in Hollywood, and kimonos were being swapped with biker jackets.
But not everyone was into it. Some took on the sukajan as alternate outerwear and a way of making a statement — a defiant one. Just like how the Schott Perfecto leather jacket acts as a symbol of rebellion in the United States, sukajan rapidly became associated with Japanese gangs like Yakuza and juvenile delinquents like the Yankii subculture, hence the nickname "rebel jacket".
Sukajan's Recent Evolution
The sukajan came a long way from a mere souvenir jacket to a symbol of rebellion, and now a fashion trend. While it has remained in Japan as an iconic fashion clothing piece, the rest of the world didn't really know what sukajan was — even in America, the souvenir jacket began to fade after the war.
It wasn't until the mid-2010s did the sukajan see its revival outside of Japan — I'd say we have Ryan Gosling to thank for that. Other Hollywood celebrities like Drake and Kanye West also added the iconic Japanese souvenir jacket to their wardrobe, and fashion magazines like Menswear Style declared the silk bomber jacket to be a "defining fashion item".
Luxury brands like Louis Vuitton and Saint Laurent incorporated silk bomber jackets featuring floral motifs into their collections. Streetwear brands too didn't pass on the chance to be in the loop with this timeless style; Adidas and Converse were quick to release their own rendition of souvenir jackets, by incorporating the style of prints onto other fashion pieces like sneakers.
We have to admit: sukajan went from an item with a purpose to now holding mainstream appeal and becoming a worldwide fashion trend. Its journey is quite extraordinary, and personally, I see no limit to the reaches of this Japanese bomber jacket.
Where To Buy Sukajan
We can't deny how popular sukajan has become, and don't we all want to join the bandwagon if we haven't already? Because it's such a trendy style, it's relatively easy to get something similar — just walk into your local Zara or H&M and you'll probably see a rendition of the original souvenir jacket hanging on the racks. Even Gucci and Saint Laurent boutiques would have a couple of designs in store.
But as we've read, sukajan has a cultural history that prioritizes certain aspects of the sukajan which aren't reflected in these big-name fashion brands. Sukajan is mainly about personalization, customization, and workmanship — if I had to boil the essence of this jacket down into a few words, those would be it. You won't be able to get any of them from a fast-fashion bomber jacket; not even one from a luxurious brand.
To get the full authenticity, there are specific places where you can get them from. I've categorized them into two parts: buying in Japan itself or online and those wanting to buy from outside of Japan.
Shopping For A Sukajan In Japan
You could go to the local tailor that's said to have been the original creator of sukajan, Tailor Toyo, as it's still in business to this day. What's more authentic than the original crafters themselves? You can get everything from silk to acetate bomber jackets, reversible or one-sided, recreation of vintage 1940s sukajan, or an original. They are sold at quite a high price of ¥40,000, and shirts with sukajan prints are for ¥7,000 — but you're basically paying for the highest level of quality, are you not?
Or you could look at your other options. The most obvious place to get the most authentic sukajan in Japan is the original city where it was invented in the first place: Yokosuka.
A street called Dobuita Street is the perfect place where you'll be so overloaded with sukajan that you wouldn't even believe it. Don't be fooled by how it looks — this classic local street retains its appearance since back when sukajan was first popularised. From one-of-a-kind shopping to Western grubs, your day out would be filled with activities.
One shop on the shopping street that's great for sukajan is Fuji Military. By the name of it, you can assume they're experts at military-style clothes. While they're made mainly for men, women are always welcome to try them on. I mean, the unisex trend is all the rage, too, isn't it? They have an online shop where you can browse the designs available, but international shipping may not be possible.
3. Prince Co.
Another notable store along Dobuita Street is Prince Co. This company has been making authentic souvenir jackets for over 70 years, offering unique designs in limited quantities. You can even customize yourself — choose from a wide range of colors, pick the embroidery print of your choice from the samples, and wait for the magic to happen. You have to have patience if you're customizing one, though — it can take up to three months for your customized sukajan to be finished.
4. First Shokai
On the same street is another popular sukajan buying spot, First Shokai. Being in the business for over 35 years, this company can personalize your jacket to perfection. I mean, they have made top-notch jackets for celebrities like Eikichi Yazawa and Yokoyama's Crazy Ken Band. Similarly, this store would need time to craft your sukajan — up to about two months.
Mikasa on Dobuita Street is one of the very few shops that still carries the original Tailor Toyo products, particularly the reversible ones. Existing since 1952, there are other brands that are sold here, including a made-in-Japan brand called Hoshihime. Similarly, this brand offers sukajan of the highest quality — both thick and thin varieties. You can browse their online store for the designs that they have before dropping by.
6. Okuma Shokai
If you want to venture out of Yokosuka and closer to Tokyo, pop by Okuma Shokai in Ueno, the northern part of Tokyo. This shop carries sukajan for everyone — kids, men, and women. You have everything you can ever ask for in terms of the Japanese bomber jacket; from thick and thin ones to ready-made and customizable, they have them all. If you're not going to be in Japan for long and need a quick snag off the racks, Okuma's your best bet.
7. Kinji
One even closer to the city center of Tokyo is Kinji, conveniently located in Harajuku, Tokyo's fashion neighborhood. They have quite a range of second-hand clothing, which Tokyo is quite known for. The selection of sukajan here is not as high-quality as the ones that you customize yourself, but if you're not that bothered by it and just want a cheap version of this unique fashion souvenir — along with other clothing pieces and accessories — Kinji is the answer to your prayers.
Shopping For A Bomber Jacket Online Or Outside of Japan
Don't worry, those of you who aren't going to Japan any time soon or are not in Japan yet, you can also get authentic sukajan from abroad, and we have the great technology of online shopping to thank for that.
One of the best websites to get a sukajan is Japan Zone — they have quite a range of Japanese bomber jackets to choose from. Not only that, the prices are quite the steal! Their jackets may not be made from leftover parachute fabrics, but hey, they definitely encompass the cultural authenticity. Japan Zone has both vintage and new ones on sale, so depending on what you prefer, you're going to get one that suits your taste.
If vintage seems to be more of your thing, Japan Lover Me has quite a range. Admittedly, some of them can be a bit more expensive than others, but can you really put a price on authenticity?
Don't think the bigger sites are not options: eBay, as well as Amazon Japan, are wonderful places to check out the sukajan range. You get a wide range of prices and designs, and maybe a shipping discount.
A Bomber Jacket Buying Guide
Before you head to any of the places and websites I mentioned above, first, you have to know exactly what you're buying. Especially if you're online shopping, sizing can be an issue. Those serious about finding the perfect sukajan should take their time in selecting one. After all, the whole concept of sukajan is customization, so if it doesn't suit you 100%, you definitely shouldn't get it.
Before you even pick a style, you have to pick the type of sukajan: do you want a new one or a vintage one? Do you want to customize or get ready-made? Do you want silk or are you not bothered by the fabric? Some prefer to get a vintage one even though they're generally more expensive, as it's definitely more unique — each stitch was embedded with a special story for the original owner. Keep in mind that if you do get a vintage sukajan, you'd need to put in a bit more effort to preserve its original essence.
If the price is an issue and you're on a budget, or not willing to spend a lot for one, then that factors into the types of sukajan you can get. As I've mentioned, vintage ones do get pricey. Ready-made ones that aren't silk are probably the cheapest of them all.
Be prepared, regardless of what type of sukajan you're getting, there's one common clothing care you need to be aware of: hand-wash them to prevent the embroidery from fraying. You could use the gentlest setting on your machine, but I highly recommend opting for just hand wash.
Different Bomber Jacket Styles
Picking a style for your sukajan is a tricky part — there are so many designs that you won't even be able to decide! There are a few details here and there that you can keep a lookout for, and have a list of specific details that you want before going on your sukajan hunt.
For example, if you're looking for a more durable sukajan to wear in the winter, you'd want a thicker one with zip-in lining where you can add an extra layer of warmth. Keep in mind that the Japanese bomber jacket is more of a "style over substance" kind of thing in general, so practicality isn't really prioritized.
What colours do you want for your sukajan? Do you want a classic black one with the embroidery standing out more than the others, or one that's generally popping out, with the embroidery and jacket colour coherent to each other? Brighter colours are harder to match, and muted ones are more flexible.
And then comes the embroidery — I believe that's the trickiest part of them all. Do you want a cleaner look with lesser embroidery or more? Similar to colors, lesser embroidery means easier to match, and vice versa. The more embroidery, the warmer the jacket becomes — so that's a good point to keep in mind. Then comes the actual embroidery motif itself — do you want an animal design, floral, or nature ones? Think about the kind of vibe your personal style gives off, and pick a motif from there.
Bomber Jacket Sizes
Sizing is tough, especially when you're buying from overseas or cross-region. Some sizes in Asia are smaller than in Europe. S-M-L sometimes is just useless without any measurements to go with it.
If you're buying online, most of the time, there are measurements given for the most accurate sizing. Compare it to your existing jacket or hoodie to see if it'll fit. I would err on the side of caution and get a jacket a few centimeters bigger — sukajan generally looks fine if it's a bit too big, but it doesn't look good if it's too small.
Styling Your Bomber Jacket
If you already have a sukajan or you're going to buy one soon, play around with your bomber jacket a bit. There are so many ways to style the sukajan depending on the type you have, but I understand that some people may have trouble coming up with a style they're comfortable with.
Traditional sukajan is meant to fit a bit snugger than other jacket styles — the cuff should end right where your wrist is, and the hem ends where the waist is. If you're planning to wear sukajan for winter, you might want to get one that's made for it and bigger in size so you don't look like an overstuffed teddy. Otherwise, a single shirt underneath is the best for this bomber jacket.
The embroidery, regardless of whether it's a big chunk or just a small motif, will be the main feature of your look. We don't want to detract attention from this beautiful craft, do we? We also don't want to over-accessorize the look, so I'd advise sticking with a simple t-shirt, jeans, and sneakers to match with the sukajan.
If you're a tad more adventurous, bump up your sneakers to boots and match your colors to the popping colors of the embroidery.
Even more adventurous? Go all out and mix-match prints! If you do it right, it'll look like you just walk out of a fashion magazine. I'd give this a pass if you're not too comfortable with pattern-matching. I'd go on explaining it, but that would mean you reading another 5 minutes' worth of words.
Go Get Your Very First Sukajan!
The sukajan, as we now know, isn't just a fashion piece — its history and cultural essence are embedded in every stitch. Now that you know what to look out for when shopping for a Japanese bomber jacket, are you ready to own one? It makes a great conversation starter with someone else who has it on, too! Make a friend by buying a sukajan!