3 Onsens From Spirited Away Plus Other Inspired Places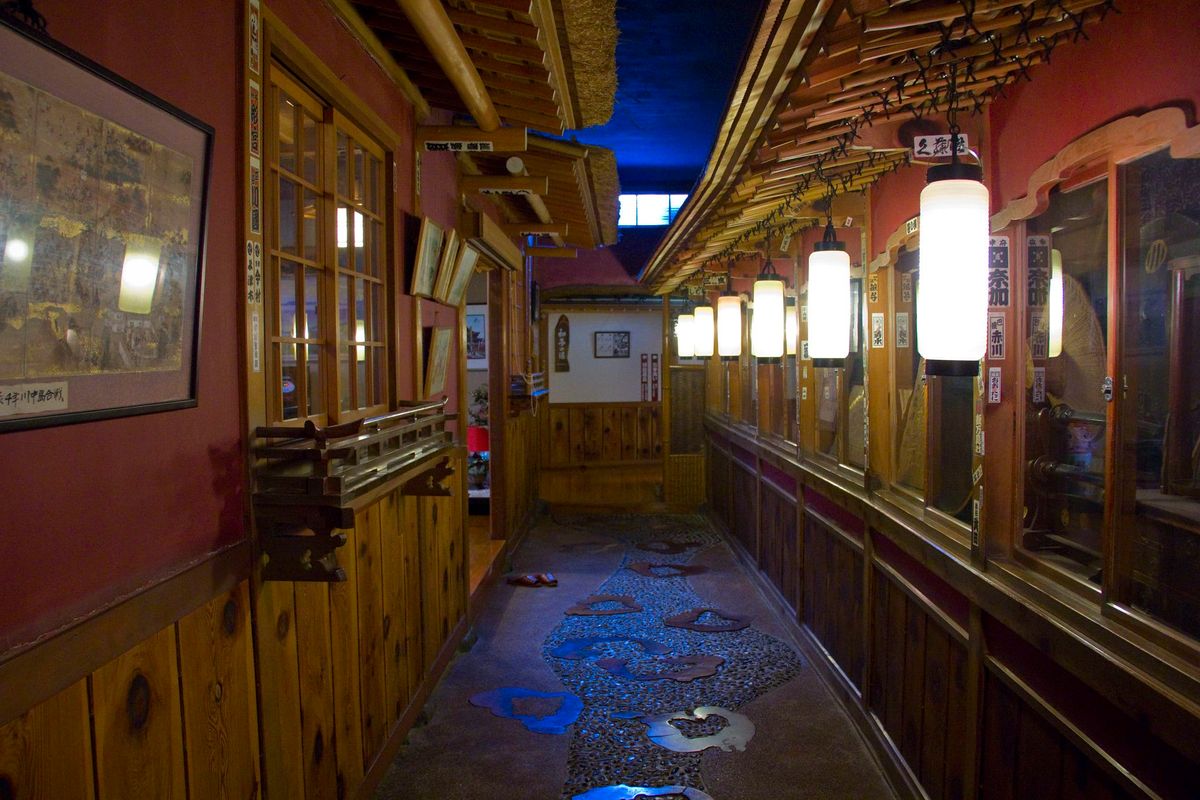 We'll mainly look at the three onsens that inspired the Japanese onsens from Spirited Away, and as a bonus, a couple of other spots in Japan that can get you feeling like you've been spirited away to the world of… 'Spirited Away'!
If the words "Spirited Away" doesn't ring any bell to you, stop right now and stream it. This 2001 fantasy and adventure animated film by the world-renowned Hayao Miyazaki took the world by storm, and no one should miss out on it.
Not only did this movie play a huge role in the boom of Japan's tourism industry but this masterpiece is also proof that the genius minds behind Studio Ghibli have imaginations that seem like they know no bounds. Everything from enchanted forests to floating castles is paired with equal or even more fantasy-like sceneries.
But every artist needs their muse — Spirited Away is no exception to that rule. Miyazaki took inspiration from parts of The Land of The Rising Sun, and while we can't possibly jump into our TV screens to experience the animated world, we can go to the next best thing: the places that inspired them.
The Hype of Spirited Away
For those of you who've watched the film, you probably know what the hype is all about already. But for those of you who don't, I bet you're curious: what is all the hype about?
I was like you once — I was pretty late to jump on the bandwagon. By the time I got around to this film, the next famous Japanese animation, kimi no na wa, was already out. But even though I was (at the time) 15 years late, Spirited Away still took my breath away.
A quick summary of the plot: the story follows the events of a ten-year-old girl named Chihiro after her family took a shortcut to their new home and ended up in front of a tunnel that led to an abandoned amusement park. She was exploring across the riverbed when she met a boy named Haku who warned her to cross back before sunset. Long story short, she was too late — her parents turned into pigs and she couldn't cross over due to the river being flooded.
So then, she had her name changed to Sen, got a job at a bathhouse in the park — which turned out to be a resort for supernatural beings who needed a break from the human — to survive and free herself and her parents.
Throughout the movie, you get various angles of this spirit world — from the random streets and stalls to the main bathhouse itself. And while it's all portrayed as some fantasy realm, you might have a chance or two to immerse yourself in it in Japan itself!
We'll take a look at the 3 onsens on the island nation that inspired the main bathhouse, Aburaya, from Spirited Away. Stick around for a few other places that remarkably parallels the world in the film!
1. Dogo Onsen Honkan (Ehime Prefecture)
The first onsen, and also the one that's officially confirmed as the main inspiration of Aburaya, is Dogo Onsen Honkan. This public bathhouse located in the hot springs town of Dogo Onsen can be found in Ehime Prefecture in a city called Matsuyama.
Its main attraction feature, other than being the source of inspiration for one of the world's most famous Japanese animation, is being Japan's oldest onsen, dating back to more than 1,000 years ago. Can you imagine the number of people who have taken a dip here in that time?
The structure of the bathhouse has remained the same since it was first built — currently, it's under renovation for seven years since 2019 to strengthen its preservation for the future. The Western-Japanese mix in architectural design is what sets it apart from the rest, and you can find drawings of this bathhouse amongst the tons of sketches by the animation crew for Aburaya. A particular aspect of the onsen's design that you can clearly see the influence in Spirited Away is the mazelike interior of winding, narrow passages.
If you decide to come here after the renovation's finished and the global pandemic has ended, you'll get a few choices of bathing areas — including the Tama no Yu areas, Kami no Yu areas, private rest areas and public lounge areas. When you come across the Yushinden room, no touching! This room is reserved for the Imperial Family as it's an imperial retreat spot since 1899 although, they haven't visited since the '50s.
2. Sekizenkan, Shima Onsen (Gunma Prefecture)
While this next onsen is not officially noted as an inspiration for the bathhouse — although, on their website they claim to be — it's undeniable that it's not one of them. Shima Onsen, translated to "Forty-thousand Hot Springs", can be found in Gunma Prefecture and is also noted as one of the oldest hot springs town in the country.
Here, you can find the Sekizankan, a ryokan which you can find similarities with the bathhouse in Spirited Away — the blaring red bridge in front of the ryokan is the most obvious influence. In the movie, Chihiro had to hold her breath as she crossed the bridge so that others wouldn't realise that she was human — don't worry, you don't have to do any of that if you visit this onsen town.
Remember that the onsen town is called "Forty-thousand Hot Springs"? It's also called "the cure for 40,000 ailments" — the mineralised waters are said to be able to help with movement disorders, rheumatism, digestive tract and weight loss among others. Deeply tucked in the forest, giving the whole thing a more mysterious yet peaceful atmosphere, this wooden ryokan's Main Building was constructed way back in 1691.
Aside from that, the Sanso Building was built on a hill behind the honkan in 1936 by master builders of the Momoyama period, so the architectural style was similar to that. Every corner is done in excruciating detail and the building itself is now registered as a tangible cultural property. To go there from the Main Building, you have to go through the only connected passageway: a mysterious underground passage. If that wasn't an obvious nod towards the film, I don't know what is.
Sekizenkan has a third building and the newest of them all: Kashotei. This one's built even deeper in the woods and at the highest point of the grounds. It's so far out that you'll hear every twig snap and leave rustle.
All in all, the ryokan has a couple of different hot spring baths to choose from — from one surrounded by trees (the Mori no Yu) to a Romanesque Taisho era indoor bath (Ganroku no Yu).
3. Kanaguya, Shibu Onsen (Nagano Prefecture)
The third onsen is also another one that's not confirmed by Studio Ghibli as an inspiration for Spirited Away, but one look at the interiors of the ryokan and the resemblance is undeniable. The ryokan Rekishi no Yado Kanaguya has been around for more than 260 years, dating back to 1758. It can be found in the hot springs town of Shibu Onsen, perched high up in the Japanese Alps in Nagano Prefecture.
You can't deny that it's temple-like architecture isn't similar to Spirited Away's Aburaya. You can also tell that this four-story wooden bathhouse is intricately and uniquely designed — I mean, the window that's in the shape of the ryokan's family crest is proof enough.
All 29 guest rooms have different designs from each other, making every bath a distinctive experience from another. You can flip a coin on whether you're going to get a full Japanese-style room or ones that are decorated with stained glass. Even the corridors are special — the third floor's corridor has water mill gear incorporated into the design shaped like Mt. Fuji.
Other Spirited Away Lookalike Places
For some, the three onsens that mainly inspired the film is enough for a trip to various prefectures in Japan, but a couple more locations along the way wouldn't hurt, am I right? Locals, regardless of whether they're Ghibli fans or not, can't help but spot the resemblance of various places in the country to certain scenes in Spirited Away.
Here are some places that you can pop by when you're around the area — some are even in Tokyo, so you don't even have to travel out of the capital city!
Edo Open-Air Architectural Museum (Tokyo)
Studio Ghibli themselves confirmed that this place is the source of inspiration for some of the buildings in the film. The Edo Open-Air Architectural Museum can be found in Tokyo — just next to the headquarters of Studio Ghibli.
Miyazaki himself visited this seven-hectare site to capture the nostalgia of the Edo buildings. Can you spot the similarities between the exhibit of a former stationery shop called Takei Sanshodo and the boiler room in Aburaya?
A trip to this museum is not only for the film but also for grasping the ambience of old-time Tokyo — when it was still Edo. A mix of arts and history is a good enough reason to pop by down here, don't you think?
Shimonada Station (Ehime Prefecture)
When you're already up in Ehime Prefecture to visit Dogo Onsen, why not pop by Shimonada Station? In the movie, when Chihiro was travelling to meet the twin sister of Yubaba who is the mistress of the bathhouse, the scene had views that looks exactly the same as the one you can see from the train windows from this station.
The trains from Shimonada Station runs along the coastline, blessing you with landscapes that you won't even believe with your own very eyes. Nothing beats killing two birds with one stone — especially when you're already down there in Ehime.
Ginzan Onsen (Yamagata Prefecture)
I know I've mentioned a few onsens already, but this one has to be mentioned as well. Ginzan Onsen, literally translated to Silver Mountain Hot Spring, can be found in Yamagata Prefecture and is already a must-visit tourist destination. When the sun sets and everything gets dark, the town lits up in golden hues from the yellow and orange lights — a magical view on its own.
Some say the ryokan called Notoya that can be found in Ginzan Onsen greatly resembles the bathhouse in Spirited Away. This Japanese inn was constructed in the Taisho Era and is also registered as one of the national cultural properties. It had gone renovation to maintain its preservation and now it looks like it came out from a period drama!
Although Studio Ghibli didn't acknowledge this ryokan as one of its inspirations, the similarities are quite uncanny, in my opinion. Regardless, a visit to Ginzan Onsen will leave you speechless and an experience beyond words — you'll get sucked into the nostalgia of olden Japan during its time of glory.
Hotel Gajoen (Tokyo)
This spot doesn't require you to travel out of Tokyo — in fact, it's located in the central area right next to Shibuya: Meguro. You might assume by its name that it's merely a hotel, but Hotel Gajoen isn't just a traveller's accommodation; it's also a wedding and dining venue!
The architecture of this establishment clearly resembles the designs of the Showa era with its carved pillars, lavish walls and ceilings, and glass windows. Its decorations are so elaborate you might think you're walking in a museum!
If you haven't spotted the similarities yet, I'll just let you in on this one — Gajoen is actually the prototype of the banquet hall of the bathhouse in Spirited Away! What better way to immerse yourself in the spirit world of the film than by taking a tour inside the actual prototype building!
Get Ready To Be Spirited Away!
Whether you're a big Ghibli and Spirited Away fan or not, these spots mentioned are still great places to visit when you're in Japan. While you seek out the resemblances of the areas with the film, you're also expanding your knowledge about Japanese culture and history — all by going to attractions that have a rich history and radiate an unbelievable ambiance.
So, what are you waiting for? Start planning your Japan trip and book your flights as soon as the borders are open!