9 Trendy Japanese Streetwear Brands To Wear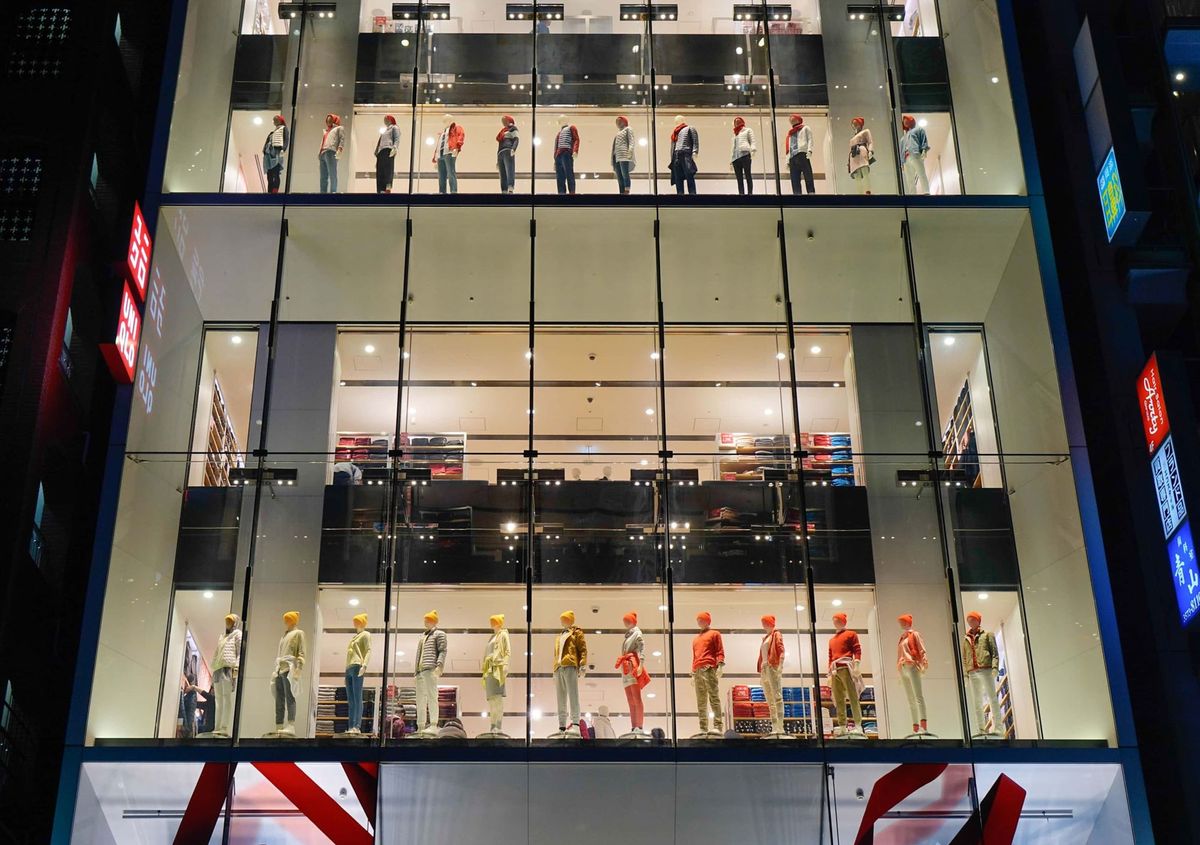 If you're not that well-informed about the fashion world and streetwear, but you want to educate yourself on this trendy topic, you've come to the right place. From its origins, to where and how to rock Japanese streetwear, you'll be well informed on them all with just a scroll away.
If you've kept up-to-date with the latest fashion trends and styles, you'd know that streetwear has been dominating the scene recently, and particularly Japanese streetwear — dominating fashion runways worldwide and sweeping the brand collaboration culture. Japan's basically the OG of streetwear — a stroll around Harajuku and Shibuya neighborhoods will leave any streetwear enthusiasts buzzing and positively overwhelmed.
Here is where every single style imaginable is present — from the abundant and unique subcultures to the ever-changing trendy looks. There's nowhere else that's better to strut your personality and experiment with a new vibe than Harajuku — you'll fit in regardless. This neighborhood is basically where Japanese streetwear began.
What is Japanese Streetwear?
Exactly what is Japanese streetwear? There's really no one style to describe this. Japanese street fashion covers anything and everything — from Harajuku's original subcultures like babydoll-dressed Lolitas to goth-and-pop-combined Visual Keis. It's a wide spectrum that welcomes anything out of the ordinary.
The original subcultures that started off Japanese streetwear are barely visible today — don't get me wrong, you still do see groups of them wandering around Harajuku and Cat Street, but the numbers are not as it was before. They're no longer the forefront of Japanese streetwear — now, Western-influenced styles have taken over, with a Japanese twist of course.
One significant factor that differentiates Japanese streetwear from others is that it's more than making a fashion statement — it's a lifestyle choice. Taking on a certain style is not just about getting attention, but a sign of dedication to the community as well as their beliefs that surrounds a particular style.
As we mentioned before, the root of all Japanese streetwear is Shibuya and Harajuku — more the latter than the former. How did this neighborhood become one of the world's biggest hot spots for streetwear?
The Origins Of Japanese Streetwear
Up until the 1940s, the streets of Japan were still full of people wearing traditional wear like kimonos. During this time, the country was still separate from the rest of the world — no influence went in or out of Japan. When American soldiers started coming over, tons of Western-style influence was introduced to Japan, which included Western clothing. From magazines and music, the Japanese people slowly but surely took on Western culture.
By the time the '70s and '80s rolled around, American-style music like hip-hop and rock were introduced to Japan — so did the fashion styles that came with them. Various subcultures arose from that — including the ever-famous Visual Kei. These subcultures, born out of the Harajuku neighborhood, were daring to experiment with silhouettes, colors, and clothing pieces. Anything other than a kimono, basically.
Also in the '80s, Japan saw the rise of the "kawaii" culture thanks to magazines like "Olive" featuring Lolita-style dressing — Victorian-style dresses and whatnot. Japanese youths were welcoming styles from other cultures with wide-open arms. By the time the mid-'90s came around, the streets of Harajuku were littered with a mix of known and unknown boutiques catering to various styles.
Demand was extremely high for these styles — shopping malls like Shibuya 109 and Laforet popped up around the area to cater to these demands. It was truly an eventful decade since it was also the same time the quintessential Japanese streetwear came around. Truly, these were the golden years of Japanese streetwear.
The 1990s was the time where Tokyo became the unofficial fashion hub — and if I have to say so myself, it was the top city in all of Asia. The "Shibukaji", a short-form of "Shibuya Casual", became more and more popular. We also have to thank Kurt Cobain — his Japan showcase brought grunge onto the streets of Harajuku, too.
That's not all for the 90's. The backstreets of Harajuku had their own business going down. A revolutionary movement called Urahara — a short-formed word of "ura-Harajuku'' to refer to a specific area of Harajuku and Aoyama — started causing a buzz in the scene. Stores were importing clothing designs from the West, including hip-hop and punk style fashion.
Brands like NOWHERE by Jun Takahashi and Nigo, and UNDERCOVER were a part of this movement. While Urahara brought in various Western influences, it still remained consistent in them being uniquely Japanese. Its androgynous, street-centric aesthetics of the backstreets of Harajuku earned them the title of Japanese streetwear forerunner.
Oh, that didn't cancel out the more flamboyant styles of Japanese subcultures on the front end of Harajuku. At the end of the day, Japanese streetwear consists of all, because it has nothing to do with fashion brands being the designers of their style, but rather taking control and being your own coordinator of details.
The Impact on Western Society
After Japanese streetwear's huge widespread popularity in the country, the West began to catch on. Big-name Japanese fashion designers began collaborating with each other to curate Japanese streetwear-inspired collections and brought them onto international runways. Soon after, Japanese designers and brands began collaborating with other brands from America and Europe.
On top of that, what really captured the world's attention was Japanese brands' high-level quality and craftsmanship. Undoubtedly coming from the Japanese culture's concept of constantly striving to be better, Japanese brands and designers are committed to perfecting their craft with every collection. The idea of "Made in Japan" has held the meaning of guaranteed customer satisfaction.
How Much Does Streetwear Cost in Japan?
In the beginning, Japanese streetwear didn't come cheap at all. Tons of Harajuku boutiques were specialty shops that imported their products from overseas — and we all know how much shipping and tax can add up.
As more and more people join this culture of Japanese streetwear, and with the high demand, there are now tons of retail chains that offer Japanese streetwear style at an affordable, fast-fashion price. UNIQLO, Japan's casual brand and one of the world's leading fast-fashion retailers, have set up dozens of shops in and around Harajuku. You can get Japanese streetwear pieces from UNIQLO for as low as 1,000 yen to as high as... well, even the highest won't be able to beat the OGs of Japanese fashion streetwear.
Still leading the streetwear market in Japan are street-centric brands that have been around since the start and fetch a hefty price. But can you put a price on a lifestyle that commemorates diversity and individualism, yet prides itself in unity?
Top 9 Japanese Streetwear Brands
So what are these leading Japanese streetwear brands? There are literally dozens of them, if not hundreds out there proudly offering Japanese streetwear-style clothing. Some are not even Japan-based! Italian brand Off-White is without a doubt, one of the ruling brands for streetwear to this day, and prides itself for producing comfort and luxury all in one.
There are tons of Japanese brands that have made it to one of the top few options for Japanese streetwear fashion — what are they? Let's have a look at the top Japanese streetwear brands.
Founded by Shinsuke Takizawa or Shin for short, in 1994, NEIGHBOURHOOD focuses on offering punk and biker style designs inspired by countercultural movements. If that doesn't scream Japanese streetwear concept, I don't know what is.
NEIGHBORHOOD is practically an OG of Japanese streetwear and has been around since the original Harajuku streetwear scene. The Western culture was late to catch on to this iconic brand, but now, pretty much every other season, NEIGHBORHOOD announces a collaboration with a big-name Western brand.
While the brand has expanded into prep and military designs, its classic collections include selvedge denim made with intricate specifications including natural distress washes.
The legendary A Bathing Ape (or BAPE) was founded by Nigo (or Tomoaki Nagao) and is one of the top leading Japanese streetwear brands out there. People all over the world come to Japan solely to shop at one of BAPE's 19 stores in the country.
The first BAPE store opened in 1993, in the backstreets of Harajuku. Yep, Urahara. BAPE is also an OG of Japanese streetwear. Their designs focus on casual lifestyle clothing with the iconic camouflage prints on everything from hoodies to sneakers. Of course, you can't miss the ape logo — it is its brand name after all.
One of my personal favorite brands is UNDERCOVER, founded by one of Japan's leading fashion designers, Jun Takahashi. Some say this brand is the epitome of Japanese streetwear, and much can be said about the brand's motto: "we make noise, not clothes."
UNDERCOVER's designs are heavily influenced by the grunge and punk culture — elongated hems, unfinished seams and unconventional sizes are quite prominent stylistic details in every collection.
Takahashi opened this brand while he was still in Bunka Fashion College in Tokyo, and originally inspired by avant-garde designer Rei Kawakubo, as well as punk designer Vivienne Westwood, his baby brand has now collaborated with big names like Nike, Supreme, and Uniqlo. What glow-up!
Speaking of Rei Kawakubo, of course, her brand has got to be on this list of top Japanese streetwear brands. Founded in 1969, COMME des GARÇONS was around to see the evolution of Japanese streetwear, while still remaining to be constant throughout the journey.
Just like her own style, COMME des GARÇONS features more avant-garde designs than the usual Japanese streetwear — but almost every piece is stamped with the heart with eyes logo. The brand sets out to bend the conventional rules of fashion, and followers of Japanese streetwear fashion love that.
From disrupting the norm to still being in the realms of reality, COMME des GARÇONS is without a doubt the definition of Japanese streetwear.
One of the top Japanese fashion designers in the Japanese streetwear scene, not to mention in the world, is Yohji Yamamoto. Alongside Rei Kawakubo, these two designers basically define Japanese fashion aesthetics. His designs for the past 50-ish years have one constant: the color black which screams "I don't bother you, so don't bother me". His usage of black is pretty much the opposite of the bright and popping image of Harajuku's colorful subcultures, but even this contrast finds a home in the Japanese streetwear scene.
That's an understatement — Yohji Yamamoto's designs are a cross between traditional Japanese details with contemporary visions that have been dominating the streets of Japan in recent years. From dramatic silhouettes and asymmetric designs to hints of crimson red detailing and pushing the boundaries of experimental, Yohji Yamamoto's design aesthetic is so aligned with Japanese streetwear beliefs that one might think they're one and the same.
On top of his own label, Yohji Yamamoto's collaboration with Adidas to create Y-3 is one of the most successful ones to this date. Y-3 is also one of the forefront brands of streetwear in general — it's no surprise since the mastermind behind it is one of the original influences of Japanese streetwear.
Started in 2000, the earliest on the list so far is Visvim, a famous contemporary fashion streetwear brand founded by Hiroki Nakamura who left his designer position at Burton Snowboards to start this up.
Visvim's visual concept is inspired by crafts of different cultures, combining and balancing traditional and modern techniques into one big space. The dyes used for this brand are made from mud, indigo, and cochineal beetles, and are used on intricate textiles like linen, hemp, and silk.
Nakamura's take on the Native American moccasin, the FBT, is the most famous and popular visual expression of this concept. It's a blend of natural leather construction and ornate tassel detailing with a durable Vibram outsole.
Founded by Toshikiyo Hirata in 1985, Kapital's original brand name was Capital — named after his hometown, Kojima, which was known as the denim capital of Japan. At the start, this brand was just a sewing and dyeing factory. Now, it's one of the world's most respected denim specialists.
It all changed in 1996 when the brand was renamed to its current name, Kapital. Hirata honed his craft designing and manufacturing skills from working with other companies and began applying his knowledge to perfect Kapital's signature cut-and-sew artisanal approach.
The Americana style has been reinvented with unique crafting and dyeing techniques made from high-quality denim — to top it all off, Kapital's designs are always so full of intricate details that it's now their trademark, along with the smiley face motif.
Of course, Japan's fast-fashion retail store makes it onto the list of Japanese streetwear. After all, the majority of the population in Japan shop at Uniqlo religiously. Not only is this retail chain massive domestically, but it has also now spread to major American and European markets as well.
It all started in the 1980s, and to this day, Uniqlo is unforgiving when it comes to providing a balance of classics and contemporary, experimental, and basics. That's possibly why their audience is so loyal — they're reliable for both fundamentals and trends.
While not as bombastic as the other Japanese streetwear brand counterparts, there's no doubt that Uniqlo contributes a whole lot to the modern Japanese streetwear culture.
Styling Japanese Streetwear
So you've got the big-name Japanese streetwear brands and the pieces. How do you style them?
The thing to note about Japanese streetwear is that the aesthetic leans more towards the baggy and looser fit. That in itself is a styling point to take note of. When you have a clothing piece — say, a top, for example — that's bulkier and baggier, match it with a just-as-baggy pair of trousers.
When you're out and about shopping for Japanese streetwear, keep in mind that the vintage American-inspired style is a pretty safe bet for the streetwear culture in Japan. You can never go wrong with it.
Alternatively, a simple print tee paired with loose trousers is also a solid look for Japanese streetwear.
That's the thing: there's no real right or wrong when it comes to this. Anyone and everyone's welcome, because Japanese streetwear is more of a state of mind rather than a united physical appearance. A lot of Japanese streetwear brands were born out of the mentality of being different — a misfit. The dressing up is just a means to a bigger end. So take this as an opportunity to go mental and experiment with whatever style you've been trying to pull off but had no guts to do before.
Where To Buy Japanese Streetwear
So where do you buy Japanese streetwear? How does one get started with building a Japanese streetwear closet? Regardless of whether or not you're a fashion genius, getting into a new style requires dedication, investment, and research — the last part, we've done it for you.
On top of the brands mentioned above, there are various places you can get clothes. I've split the categories into two: in Japan and outside of Japan.
In Japan
It's pretty much a given that buying Japanese streetwear is easier in Japan. There are more options since they're everywhere now. The most obvious place to go first is the original neighborhood where the Japanese streetwear culture began: Harajuku. Here, there are tons of boutiques lined up on the streets, offering various styles of all price ranges. Shopping malls like Laforet, which was the go-to place for shopping for various Japanese subcultures, have dozens of levels, and each offering a different style of Japanese streetwear.
Shibuya, just a 10 to 15-minute walk from Harajuku, is also a pretty great place to shop for Japanese streetwear. Not only are you able to shop international brands in this area, but it's also where you can find BAPE and Supreme stores — the leading brands of streetwear culture.
Commute further out to Ginza and pop by Dover Street Market, a concept store opened by Rei Kawakubo herself to bring in both known and unknown streetwear brands. Here, you'll get a mix of classic and fresh streetwear designs, handpicked by the mastermind herself.
If you're going more towards the vintage direction, Shimokitazawa is the neighborhood to go to. This area is perfect for vintage, second-hand shops that offer one-of-a-kind designs no one else can get. Named shops to start you off on your vintage shopping in Shimokitazawa are Kinji and New York Exchange Joe.
If all fails, Uniqlo is literally everywhere in Japan. You don't really have to go out of your way to get Japanese streetwear — I bet there's a Uniqlo right around the corner from your hotel or accommodation.
Outside of Japan
If you're shopping outside of Japan, you have to rely on online shopping to get the best quality of Japanese streetwear. Most of these big-name brands offer international shipping as well as online exclusives, so you're not going to miss out as much.
Alternatively, try to find pieces similar to the style of Japanese streetwear at your nearest vintage shop. As I said before, it's not so much the clothing but rather the mentality.
Conclusion
From the history and impact of Japanese streetwear to the top names and areas to get your hands on the style, you're now a Japanese streetwear genius! In this day and age, the word "streetwear" is such a broad term and used so often — there's no really black-and-white to it, but that's basically what Japanese streetwear is, isn't it? So go out there and experiment the heck out of Japanese streetwear style!